Curtis Eidson
(click on pictures to enlarge)

1968 mortar crew: Left to Right front row kneeling: Carl Blankenship (PeeWee), Larry Vaught, Hall, Chuck Youngnst
Second row: Mark Handley, Chuck Strong, Jack (Crazy) Miller, Jeff (Ludby) Lundberg
Back row: J.R. Webb, Dansby

1968 Mortar Crew: Left to Right, front row: Curtis Eidson, Billy Bolton
Second row sitting: Bradford, Jack Miller, Mark Handley, Gary Callahan, Carl Blankenship, in the white T is Hervy Beckham
Back row standing: Edwards, Johnson, B.J. Hilliard
---

Curtis Eidson and Jack Miller in Tennessee, June 2000
---
B.J. Hillyard and Robert Peterson in left picture. Peterson with 60mm mortar in the right picture. Hillyard survived Nam but not the World, Peterson was killed during Tet.
---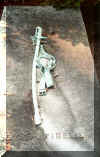 At Tybee Island where I go to there is an old Grave yard that has some very old people in it. Some go back to 18th century maybe. Anyway, I like to go here and kinda talk to this guy. He was a WW1 pfc. His family had his belt and sword bronzed and fixed on his stone. Just kinda neat you know. He's nobody but I just bet one hell've Marine. It's just one of my things to do on V-Day you know. Also I like to go there on Memorial Day and kinda give thanks. Been doing it for some years now. Better than a parade you know.
---

The extraction of what was left of 3/5 after Operation Essex, November 1967. Brad Reynolds of Mike Company says of 140 men only 7 or 8 were not KIA or WIA. India came in because Mike was getting wiped out. Of the people on our rosters, Curtis, Jerry Bain, Slick Mowery of India and from Mike Co., Brad, and J.C. Bowers were there and Steve Haygood/Walker got hit there. The next five images are all Essex pictures.
---

Curtis Eidson, on left, with one of his best friends, Cpl. Billy Carroll Bolton, January 12, 1968. Bolton was killed on January 30, on Operation Auburn (Tet) when India came up on a major force of NVA and reinforced VC. (Ed. note: I don't know about you guys but this one hit me sort of hard, the guy looks like an epitome of life. Curtis carried him out....for a look at tributes you can to go to http://thewall-usa.com/index.html...or click on the link. Once there just fill in the first and last name and the service and submit).
More of Curtis' pictures.

November '67, Antenna Valley, just before Operation Essex.

January '68, During Operation Auburn, (TET)

January '68, inspecting a crater during Operation Auburn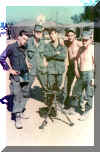 November '67, India 3/5 mortar crew ('60s).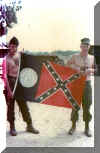 Georgia Flag held by Curtis Eidson, left, and B.J. Hilyard. Hilyard was from Texas, you can see him holding the Texas star. He was killed after he came back from Nam.

Curtis Eidson, India 3/5, in Nam.

In April 1993, Curtis Eidson receiving his medals from Medal of Honor recipient Gen. Ray Davis at a ceremony at the Carrollton Armory in Georgia.
Curtis Eidson, Parris Island, June 1966, and a few months later. Served with India 3/5 from July 1967 to August 1968, participating in Operations Cochise, Swift, Shelbyville, Baxter, Essex, Auburn, Houston, Houston II, Allen Brook and Mameluke Thrust.