Volume 1, Issue 1 March 01, 1996
Remember 30 years ago? by John Olsen
Do you remember what you were doing thirty years ago? Maybe this article will refresh your memory. I joined I 3/5 on January 12, 1966. We trained at Camp Pendleton until February 3rd when 3rd Platoon boarded the USS Winston. We were at sea, with a stop in Hawaii.
I remember wearing civilian clothes under my uniform off the ship and then using my uniform as a pillow when I slept on a park bench that evening. Obviously going back aboard ship my uniform looked a little worse for wear. We arrived and disembarked at White Beach, Okinawa, on March 26th.
Remember training in Okinawa with the momason's selling soda and the Monsoon rains. We trained there until April 5th when we boarded the USS Whitfield County at Naha and disembarked at Numasu, Beach, Japan on April 6th. Ten days at Mt. Fuji. Remember the smelly stoves and cooler weather, the orphanage, Tokyo and the rifle range. The reason we were there.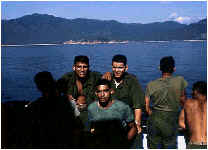 The coast of Vietnam 1966 with Hayden, Camarillo & Olsen.
On April 15th we embarked on the USS Tom Green County at Numasu Beach, Japan. What a ride that was. I remember being in the center of the ship watching the meter go to 45 degrees as the ship tossed and turned in the storm. We arrived at Naha, Okinawa on April 19th.
Remember the inspection by General Krulak. Our Officers put the fear of God in us. "Make sure your canteen's are full of water".
We continued to train on Okinawa until May 11th when we boarded the USS Pickaway at White Beach, Okinawa and sailed to Subic Bay, arriving on May 20th. We then departed Subic Bay on May 23rd and participated in operation Hilltop which was a practice beach landing at San Jose, Mindoro in the Phillipnes. I remember Operation Hilltop because it was there that Tommie Holland and I played chicken with a K-Bar and it ended up sticking in my foot and I had to be carried out of the jungle. I received twelve stitches and was in the Ship's Hospital until Operation Deckhouse I. The rest of you reboarded the USS Pickaway on May 27th and we arrived in Subic Bay on May 28th. We departed Subic Bay on June 8th and headed for Vietnam.
June 18th we made our first beach landing on Operation Deckhouse 1. I had to beg Lt. Carey to let me out of the hospital so I could participate in the landing. Of course after trudging around the hills in the the 100+ degree temperature I had to question my intelligence. I remember the great firefight we had with ourselves. This operation turned into a Joint Operation called Nathan Hale on June 28th. This is where we assaulted through the valley and the Viet Cong overran the Army blocking force. I remember finding a Vietnamese man in a hut with a dog chain tied with cloth to his arms and legs pretending that he had been a prisoner of the V.C. Obviously he thought I was dumber than I looked if I believed that one. I also remember my Fire Team coming to an Elderly Vietnamese's house and the couple looking very frightened. They indicated that they wanted to share tea with me, so with the sounds of gunfire in the background, I set down and had tea with them but only after I had told my Team that if these people poisoned me, to kill them. All went well, I had the tea, bowed politely to them and we continued our sweep through the village. This operation ended on July 1st. We reboarded the USS Pickaway and arrived in Subic Bay on July 5, 1966 for a picnic and games.
On July 13th we left Subic Bay and floated off the coast of Vietnam until July 16th when we made the beach landing at the DMZ and Operation Deckhouse 2.
Remember the briefing the night before our landings and the early morning breakfast of steak and eggs. Remember talking about the "life expectancy of your MOS when you "hit" the beach. Remember going down the net and timing your step into the boat so you wouldn't step into space.
I remember this landing inparticular because it so happened Captain Glaize was in the same landing craft as my Squad. When the craft landed on the beach we were still a ways from the shore and the ramp was stuck and wouldn't go down. Now what is the one thing you are not suppose to do when the ramp won't drop? Climb up on it, right? Well, as soon as I realized that the ramp was stuck I yelled for my team to climb over the side and proceeded to do so myself. I am up on top of the side of the landing craft and out of the corner of my eye I see Captain Glaize up on the top of the ramp bouncing up and down. I jump into the water and its about chest deep. I'm wading around to the side of the craft when the ramp suddenly drops and with it Captain Glaize goes headfirst into the water. Needless to say he had the most suprised look on his face as he floundered to get upright and to the beach.
Remember while we were in the beach area at the DMZ and 2nd Platoon went into North Vietnam. Or did they? Remember seeing the ships and being told we were going on another mission.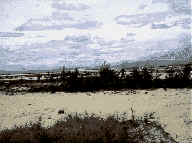 Beach at DMZ
On July 19 Operation Deckhouse 2 turned into Operation Hastings. Operation Hastings lasted from the 19th until July 30th. The experiences and memories of this period of time are probably the most vivid and painful and I will save my thoughts for a later time and place.
Those of us that walked off hill 362 were brought back to the ship where we got a warm reception, cold soda's and soap. On August 2nd we were debarked at Chu Lai, Vietnam.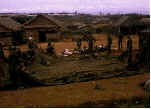 On August 5th to August 17th we participated in Operation Colorado. Then on September 5th to September 15 th we participated in Operation Napa. I believe this is the Operation where after taking sniper fire for most of the day we vented our frustration on the village where the last sniper fired at us. The result of this was we got taken out of the field for thirty days. We were then repositioned to the outer perimeter of Chu Lai.
Now that I have probably refreshed your memory as to where you were when, think about it and bring your recollections to the reunion May 3rd through the 5th in Washington DC. (Editor note: this was in 1996).
---
(Editor Note: This article was written by Joe Holt, in preparation for the May 1996 reunion)
Marines! by Joe Holt
Our reunion is coming up fast. It appears that a few of us are not sure if we are going. Wrong. We must all be there.
Together, we endured experiences that others can't begin to understand. We are each others' only witnesses. Also, we must be faithful to the memories of the guys that didn't make it back. We had some great times . We had some miserable times, Together. Many of us have said that it's been such a long time that we're not sure if it ever really happended. It did. Who can forget the first few days of misery aboard the Renville? The Pickaway. The whole Mt. Fuji episode. What a time in Subic Bay...Olongapo! The Deckhouse operations. And of course, Hastings. These will always be our memories to share.
This is no time for mixed emotions. This will probably be the only time in our lives to celebrate those times together. Together again. Three days only. India Company.
We must never forget. Semper Fidelis! Always Faithful!
We must all be there.
---
In Memory of those who have gone before us:

Elvin Alston Robin Arnold Willie Ashford James Belyeu Randy Brosnan Walter Brown Ronald Coates Willie Collier George Corey Oscar Cruz Richard Currier Larrence Daniels Lee Dearing Lawrence Denny Robert Dulecki Emmanuel Eaton Franklin Eucker Ronald Fenstermacaer John Fleming Jerry Hailey Daniel Harmon William Hawkins Arthur Hayslip Samuel Huffman Robert Johnson Stephen Kittle Joseph Kopfler Sidney Malone Moris Olson Melecio Ortiz John Perich Phillip Pierce Raymond Powell Thomas Presby John Reagan Gordon Ridge Johnnie Smith Rodney Wescott Frederic Youmans
---
USS Tom Green County

Mt. Fuji, Japan

Subic Bay

Rice Paddy outside Chu Lai
Operation Napa
---
Continued on page 2