Various
(click to enlarge)

This picture was taken on May 31, 1966 on PI. The Marines in this pic were ashore from the USS Princeton on the way to 'nam. Forrest Knisely, from HMM364 was friends with the guy with the beer bottle on his head, and is trying to identify him. Do you know him? Forrest's email is lobousmc44@yahoo.com

Weapons Platoon, 1966

This is a photo of Steve Grey at base camp in An Hoa in April or May 1969 preparing to go into the field. Steve doesn't recall any of the other men in the pix. If anyone recognizes Steve please email his brother Bob Grey at bgship@aol.com

Picture from Ric Lee. In back is Charles Townsend (KIA on December 23, 1967, along with L. B. Murphy and Lt. Corr....on Our Wall).
This picture is from Bobby Brewton, 2nd platoon. Bobby was with India from May 1970 to January 1971.

Melecio Ortiz, top left (KIA 5/13/67) and five other Marines, do you know them?

3rd Platoon, on Okinawa, on the way to Vietnam, 1966
Picture from Carrell Bostian (He's second from right, top row)

John Costello ('67-68) and Britt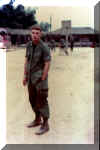 Craig Tschetter? 67-68
From John Harris, Lima 3/5, the left picture is 2nd ITR Company X, 3rd Battalion, 2 December 1965. Do you know anyone pictured?
The right picture is Boot Camp Platoon 373, San Diego, 1965.
At left, Gunny Gunderson, January 1968. Right picture taken mid January 1968. Sitting in front is Roger (Doc) Olson, KIA 3/26/00; Kneeling from left: August (Gus) Howard, Michael Hulsey; Standing from left: Gunny Gunderson, Boyd (Chief) Chegup (Ute Indian), Eddie Garcia, Charles (Chunky) Stonebreaker.

From the center page of the August 9, 1966 issue of Sea Tiger, an India Company medevac.

Bill Avery, '68

Captain Perkins

.
Dennis Tenety, India 3/5, now.
Jim Williams, India 3/5, '68