India Company, 3/5
This page is for use by our friends from India Company, until you have your own page elsewhere you are welcome here, forever if necessary. We are honored to include you in our little community.
Following are pictures of some of the India Company members on the roster. For the roster click the link at left.

From Curtis Eidson. The extraction of what was left of 3/5 after Operation Essex, November 1967. Brad Reynolds of Mike Company says of 140 men only 7 or 8 were not KIA or WIA. India came in because Mike was getting wiped out. Of the people on our rosters, Curtis, Jerry Bain, Slick Mowery of India and from Mike Co., Brad, and J.C. Bowers were there and Steve Haygood/Walker got hit there.

3 from Joe Holt. 1) On the left is Sgt Piosso of India on Hill 362 on July 24, 1966. His arm was very badly shot and there were fears that he would lose it. Joe is happy to report that the last he heard he had turned into a fanatic golfer.
2) July 25, 1966, a picture that made a bunch of newspapers. Marty Morris reaching for the helo sling, Lynn Felton with the bandage on his head. Steve Fautch crouching in the background. Holding up Felton is an unidentified helo crew member.
3) Mini reunion with Steve Dawson in Idaho, last week.


Curtis Eidson, on left, with one of his best friends, Cpl. Billy Carroll Bolton, January 12, 1968. Bolton was killed on January 30, on Operation Auburn (Tet) when India came up on a major force of NVA and reinforced VC. (Ed. note: I don't know about you guys but this one hit me sort of hard, the guy looks like an epitome of life. Curtis carried him out....for a look at tributes you can to go to http://thewall-usa.com/index.html...or click on the link. Once there just fill in the first and last name and the service and submit).
More of Curtis' pictures.

November '67, Antenna Valley, just before Operation Essex.

January '68, During Operation Auburn, (TET)

January '68, inspecting a crater during Operation Auburn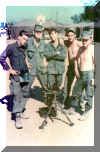 November '67, India 3/5 mortar crew ('60s).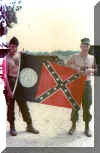 Georgia Flag held by Curtis Eidson, left, and B.J. Hilyard. Hilyard was from Texas, you can see him holding the Texas star. He was killed after he came back from Nam.


From Joe Holt, "This was taken in Camp Schwab in Okinawa in late May or early June of '66 just prior to shipping out as BLT 3/5. I'm not in it". (If anyone wants the original of this picture by snail mail, or a larger digital copy, please let us know).

Bob Morris, now and on right, then (probably from 1st recon). Bob was with India for 3 months in early 70.
On far right, Jerry and Karen Bain. The other three are from Jerry Bain in 'nam. If anyone remembers the guy in the second picture on the left, please let us know.

Pictures from Bob Mowery. The two on left in August 1967, Cpl "Slick" Mowery. The next one was coming off Operation Swift, Sept 7, 1967. On far right, Bob and Pat Mowery, 25th Anniversary, Hawaii.

.Dennis Tenety, India 3/5, now.


Jim Williams, India 3/5, '68

On left, Doc Parlee and wife Terry. On right, Ron "Doc" Parlee.

Curtis Eidson and Ron "Doc" Parlee, both from India company, at a "surprise" reunion in Waco, Georgia, March of 1999. Doc was senior corpsman of India 3/5 during Operation Mameluke Thrust, May-June 1968.
These next three pictures are from Curtis Eidson from India Company 3/5, 66-67.

Curtis Eidson, India 3/5, in Nam.

In April 1993, Curtis Eidson was awarded the Bronze Star by Medal of Honor recipient Gen. Ray Davis at a ceremony at Carrollton Armory in Georgia.

Curtis Eidson, Parris Island, June 1966. Served with India 3/5 from July 1967 to August 1968, participating in Operations Cochise, Swift, Shelbyville, Baxter, Essex, Auburn, Houston, Houston II, Allen Brook and Mameluke Thrust.