SILVER STAR Citations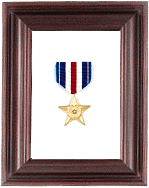 Official Silver Star Citations for members of India Company. Click on the links to get to the pages. We have broken out the citations on separate pages so that we can link to them from the Table of Awards on the battalion home page.
They are:
Private First Class Roger McCann
Lieutenant Michael Carey (2 awards)
Corporal Durward E. Timmons, Jr.
Corporal Melecio Ortiz (please see the letter from Kristie Rabago, below. Kristie is Melecio's niece and she forwarded the citation on to us).
"Here's the citation for my uncle Melecio Ortiz. Can you please post it? Thank you so much for your help. In the last few days, I have realized what a tight-knit group you all are. Quite a few of your comrades have replied and tried to help, even though they were in different platoons. And, I found a second cousin I never knew who lives in Illinois who is also on the guestbook asking about Ortiz! So I have started communicating with this
cousin I never knew before. Your site is awesome. I have so much respect for what you guys did then and now. It is amazing how, in many families, one death over 30 years ago has affected the generations that barely knew the soldier or didn't know him at all, but just grew up around that quiet cloud of pain. But, our family had some consolation, in that everyone gave their heartfelt condolences to us and said nice things about our loved one. I know many of you and your families had it hard upon your return, with the political sentiments being what they were. We are so sorry and upset about that. Anyway, I found out Melecio Ortiz was in the 2nd Platoon. Thank you. P.S. The pictures will be forthcoming in a few weeks. Also, if any of you know of a lawyer named Daniel or David from Dallas who served in
the same platoon, he's the one who called us once saying he knew Melecio. We know of a high school teacher in Eagle Pass, Texas who served with him.
Thank you."
HN3 Charles Edward Mariskanish. His mother received an official letter with what looks to be part or all of his official citation We are posting it on his page as such.
Second Lieutenant William A. Rawson
Second Lieutenant Vincent B. Lee