OBITUARY
Terry Patrick Burns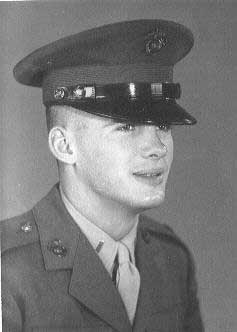 Born October 14, 1940 to Mr. and Mrs. Terry Lee Burns of Texarkana, Arkansas.
Died January 30, 1999 in Fullerton, California.
An Honors student at Texarkana High School in 1958 and Texarkana Junior College in 1960, Mr. Burns attended the University of Arkansas, where he graduated with the class of 1962. In addition to his many scholastic achievements, he was an avid sportsman, fisherman and member of the varsity golf team.
Called upon by his Country, Mr. Burns served with the highest of honors and distinction as an officer of the 3rd Battalion/5th Regiment/1st Division of the United States Marine Corps. For his courage and bravery on the fields of battle, Captain Burns was awarded the Silver Star, the Bronze Star with Valor, the Purple Heart, the U.S. National Defense Medal, the Republic of Vietnam Cross of Gallantry w/Bronze Star, the Republic of Vietnam Cross of Gallantry w/Palm, the Vietnam Campaign Medal, the Presidential Unit Citation and a Combat Action Ribbon. For his participation in numerous missions to deliver food, medicine and humanitarian aid to remote villages ravaged by the war, Captain Burns received the Distinguished Service Medal w/Silver Star, one of the highest individual honors bestowed on an American by the Republic of South Vietnam.
Following his military service, Pat, as he was known to his family, friends and loved ones, studied law at Southwestern University School of Law, joining the Colorado Bar in 1978 and the California Bar in 1983. Applying the same honor, courage and brilliance he utilized during his military career, Pat successfully fought to protect the rights of individuals victimized by the effects of asbestos and other toxic environmental substances. A trial lawyer and active member of the Los Angeles County and Orange County Bar Associations, he was the recipient of the 1993 NAACP Pioneer Award in honor of his extensive civil rights advocacy.
Apart from his many personal, professional and military accomplishments, Pat's greatest source of pride, love and devotion resided in his family life. He is survived by his mother, Mrs. Omelia Burns of Texarkana; his wife, Dr. Diana Funderburk-Burns of Fullerton; a son, daughter-in-law and granddaughter, Peter, Julie and Chloe Burns of Lawrence, Kan.; a daughter and son-in-law, Marsha and Richard Granese of New York, N.Y.; a son, daughter-in-law and grandson, Marc, Carinna and Masen Funderburk of Corona, Calif.; his youngest daughter, Michelle Burns of Fullerton; and his two sisters, Mrs. Joan Borregard of Asheville, N.C., and Mrs. Jerry Milholland of Texarkana, Texas. Pat is also survived by three nephews, Jon Byous of Livermore, Calif., Scot Milholland of Burbank, Calif., and Jim Byous of Fort Lauderdale, Fla., and one niece, Teri Smallwood of Port St. Lucie, Fla.
A military service with honors will be held at noon on Friday, February 5, 1999, at Loma Vista Memorial Park, in Fullerton, California.