November 2000 to July 31, 2001
July 31, 2001
Please welcome Rick Spaniol to the roster. Rick was a machine gunner with 1st platoon in 1967 and 1968. He doesn't have email yet but will soon.
We've identified the guy in the third picture of Jimmy Christy's. He's Doc Ward from Canada. Has anyone had any contact with him?
July 26, 2001
We have added three pictures from Jimmy Christy (1969). They're of Dan Brewer, Sonny Williams and an unknown we need help with. On his picture page.
We have added four pictures from Rod Johnson (1967-68). Two with his machine gun, with friend and at China Beach. On his picture page.
July 21, 2001
We have added Dan Neuenschwander to Our Wall. Dan was from Fessenden, North Dakota. He was KIA on May 15, 1968.
July 20, 2001
We have added Terry Phillip Brady to Our Wall. Terry was from Tallahassee, Florida and was KIA on September 29, 1968.
Jerry Hailey's son Jerry is on our roster now. If you knew Jerry, KIA 7/24/66, you are invited to communicate.
We have added a story from Joe Holt, called Gil's Drill. It's about Close Order Drill taken to new heights and it's hilarious.
July 19, 2001
Please welcome James Straus to the roster. James was a second lieutenant FO with the company September 3 to October 1, 1968 when he was wounded.
July 16, 2001
We have a bio for Tom Panian and an updated bio for Jim Sims. On one of the two bio pages.
As another point of contact for friends of Melecio Ortiz we have added his younger brother Sabino's email address, on the roster.
July 11, 2001
For your next reunion plans, in LaGrange, Georgia to be held on May 16-19, 2002, please see the reunion page on the battalion site.
July 9, 2001
We have a number of family members and friends of our brothers on The Wall who have made contact with some of us throughout the years. If they so desire we are now publishing their email addresses on our roster so that, if you knew him, you may communicate with them. The mechanics of how this works is: we place the name and date of death of our brother on the roster. In the same box is an email address of a family member and (sometimes) the relationship. We have 11 on there now. They are, including the two that were already there, Gary Hibbard, Randy Brosnan, Tom Presby, John Perich, Richard Skaggs, James Morris, Robert Peterson, Robin Arnold, Henry Kolakowski, Billy Bolton and Melecio Ortiz.
July 8, 2001
Please welcome Thomas Larson to the roster. Tom was an FO with 81s from February to June 1968. Serving with India Company (and he's on India's roster too) he was wounded 3 times, the last time June 15 when Captain Kolakowski was killed.
July 2, 2001
Please welcome Luis Vega to the roster. Luis was with Weapons platoon, then 3rd platoon from June 1969-June 1970 and was wounded shortly before his tour was due to end.
June 24, 2001
Please welcome Dwight Foyil to the roster. Dwight was with the company in 1968.
June 6, 2001
Please welcome Ron Pizana to the roster. Ron was with 2nd Platoon and then with Weapons from March 1967 to February 1968 when he was wounded at Phu Loc 2. Also, we've posted his bio.
Bill Dowling's email has changed. It is now wlldwl@aol.com
We're still working on reunion pictures...thank you for your patience!
May 24, 2001
We have added two more names to Our Wall. Both were KIA on Operation Swift, September 6, 1967. Corporal William Richard France from Garfield Heights, Ohio and PFC Robert Wayne Swafford from O'Fallon, Missouri. With thanks to Slick Mowery for remembering.
Please welcome Kristine Rabago to the roster as an honorary member. She is the niece of Melecio Ortiz and anyone who remembers Melecio is invited to write Kristine. Her listing is under his on the roster.
Jim Kirschke, 81s platoon commander in '66, then with Hotel 2/5 in '67 until he was wounded has written a book entitled Not Going Home Alone and is about 3/5 and 2/5 during those years. It is available for preordering through Random House. Go to amazon.com and search by title or author and order it if you wish to get it. Enough orders go through and Random House won't drag their feet and might publish it earlier than the July scheduled date. Hans Haupt says it is an excellent book. And I have met Jim and heard him lecture...he's got a lot to say.
We are still putting together pictures of the reunion so that you may see for yourself what a great time was had by all. There have been many messages posted on the message board by folks, which you all might like to read. Should you have pictures that you would like to share with the rest of us, we don't have a complete set of all the events. I'm specifically interested in pictures of the presentations on Saturday (most of us where holding up the Wall...because of rain and the paper banner...we looked liked schmoos...and couldn't use our camera). Also, pictures of the fun raffle that Miller put on. Anything else that you took that you think good would be appreciated. You can send them to the webmaster or to Curtis Eidson. Thank you.
Here's one picture for you...as a teaser...So, you're thinking of coming to one our reunions? Come in driving a sedan and leave looking like this.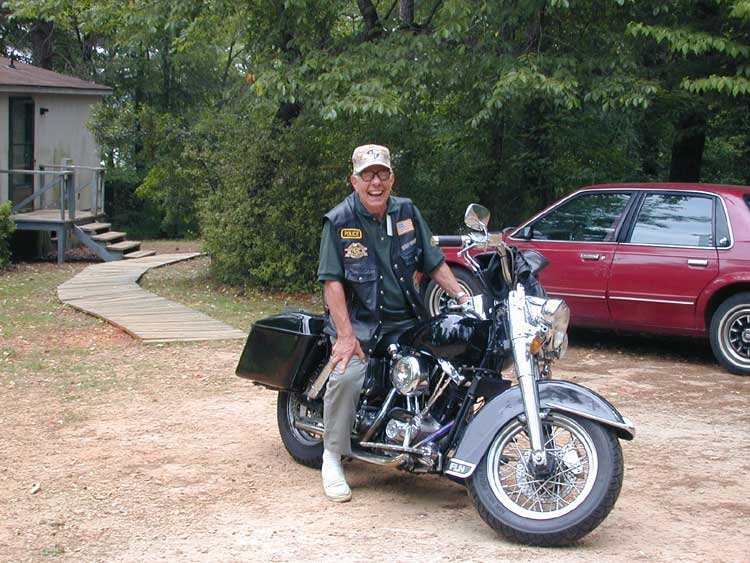 May 21, 2001
Dear Friends, our second reunion at LaGrange is now over, too soon. We'll give you a reporting of it on these pages sometime in the next few days.
May 14, 2001
Please welcome Tom Hoey to the roster. Tom was with the Company in 1968 and you can learn more about him from his bio entry (adapted from a letter to Curtis).
May 9, 2001
Please welcome Fred DeAtley to the roster. Fred was with the company during 1969-70. The address attached to his name on the roster is that of his brother Russ, who was with India 3/1.
April 20, 2001
We've constructed a simple memorial page for Doc Parlee. Details on the services on April 27 and interment on May 4, 2001 are included.
April 13, 2001
We are saddened to report that Ron "Doc" Parlee died last night. Details and arrangements are unknown but we will report them as soon as we know. We were looking forward to seeing him again at the reunion next month. I'll always have a picture in my mind of him presenting that plaque to Curtis at the last reunion. Those of us who remember him in-country know that he was a true brother. You are missed, Doc. Our thoughts and prayers are with wife Terry. REST IN PEACE Marine.
March 29, 2001
We posted the Navy Cross citation for 2nd Lieutenant Dennie Peterson, KIA 6 September 1967. It is also linked from the table of awards on the battalion page.
March 28, 2001
Please welcome John Brennan to the roster. John (known as Father John in country) was with 3rd squad, 3rd Platoon from September 1968 to October 1969.
Also, a correction was made on one of the Marines we added to the Wall two days ago. The proper Peterson is Dennie D. Peterson, 2nd Lieutenant acting as an FO for 2/11 and attached to India. He was awarded the Navy Cross for actions in which he lost his life on 6 September 1967. I have the citation and will be typing it in shortly.
March 26, 2001
This update has been delayed a few days because of computer problems of mine.
Please welcome Jerome Czarnowski (Ski II) to the roster. He transferred from Kilo Company at Margarita in 1966. He was Sgt. Zaidinski's radio operator, 1st Platoon, until he rotated in April 1967.
We have added 15 Marines to Our Wall.
On 26 May 1967, Lance Corporal Brock Elliott of Manteca, CA;
On 2 June 1967, Corporal Normand Beaulieu of New Bedford, MA and Sergeant Ruben English of Philadelphia, PA;
On 6 September 1967, Staff Sergeant Richard Jackson of Philadelphia, PA, PFC Jerry Royal of Oklahoma City, OK, PFC Lewis Proudfoot of Elverson, PA, PFC Frank Swinford of Sweeney, TX, PFC Robert Evans of Grand Prairie, TX, PFC Robert Wallace of Plattsburgh, NY, PFC Cecil Moorman of Winter Garden, FL, PFC Gary Hibbard of Dimock, PA, PFC James Miller of Fernandina Beach, FL, and Captain Dennis Peterson of Huntington Park, CA (MIA);
On 7 September, 1967, Lance Corporal James Jones of Seneca, IL;
On 8 September, 1967, HM3 James Cazares of Oklahoma City, Ok.
Rest in Peace, Marines.
March 13, 2001
Hector Agustin has a different email address (hector.agustin@usdoj.gov). It has been changed on the roster also.
Posted an excellent poem by Hank Oliver, named Semper Fi. About what those words mean to us.
March 7, 2001
Please welcome Richard Hodgdon to the roster. Dick was the first squad leader in 1st Platoon in 1967. He was wounded on Operation Swift.
February 28, 2001
Please welcome George Hazzard to the roster. George was with the company from 1967 to 1968 and participated on Operations Union I and II and Swift.
Also, please welcome Dave Stinson to the roster. Dave came from Lima Company (who he had been with since May 1966) in September 1966. He was a Platoon Sergeant and Platoon Commander with the Company. Captain Sims was the CO when Dave was there. He served a second tour with 3rd Marines.
February 22, 2001
Jean Perich is the sister of John Perich, KIA 7/22/66 on Operation Hastings, and on Our Wall. She wrote the following message on our board asking for our help. If any of you Hastings Vets remember John please contact her at k6jrp@mediaone.net Here is the message:
My brother was killed on July 22, 1966 during Operations Hastings. Through this web site I learned how he died. I would like to know more. I would like to thank the Marine that accompanied his body to Bakersfield, CA in August of 1966. I would like to find out if John's friend that stopped by my parents' home on his own way home can e-mail me. I was unable to listen to him when he was there; I can now if he will forgive the time lapse. If others knew my brother and have stories or impressions I would be grateful. I would like these so when my nephew who just turned 9 asks, "Who's is the Marine in that picture." I will have something to share with him. Thank you
Lucky Whipple wrote a poem called The Grunt in 1969, around Dodge City. A fine one and we've posted it. Click on the name to jump there.
February 21, 2001
Please welcome Vic Scheeler to the roster. Vic was a sniper with India from June or July 1968 to January 19, 1969. He had one of the platoons for a short time waiting for a Lt to be assigned. Prior to that time Vic was with Kilo Company as a sniper in 67-68.
February 20, 2001
Please welcome Raymond "Lucky" Whipple to the roster. Lucky was with 2nd Platoon, 3rd Squad in 1969-70.
A couple of email address changes for you. Eddie Garcia is now at elzorrogarcia@aol.com. And Tom Gainer is at ttfns@aol.com. Appropriate changes to the roster and database have been made.
February 6, 2001
Please welcome Lu Estrada to the roster. Lupe, as he was known in country, was in the mortar section, 1st Platoon from November 1969 to February 1970.
(Your webmaster is having computer problems, please forgive the delay in posting new info....ordered a new computer, be here sometime late next week).
February 3, 2001
Please welcome Hector Agustin to the roster. Hector was with 1st Squad, 2nd Platoon from 9/69 to 9/70 as an 0311.
January 28, 2001
We are saddened to report that Terry Whited passed away from a massive heart attack. He was with India on Operation Hastings. Please read Joe Holt's tribute on the message board at http://venus.beseen.com/boardroom/c/30679 Rest in Peace, Terry.
January 26, 2001
Please welcome Raul Gutierrez to our Roster. Raul was with the company in 1969 and was an 0331.
Rod Johnson's email has changed. It is now getsome0331@aol.com
Made some corrections to John Gundersen's info on the roster.
Caught up to date on the database, added 24 names and made email corrections.
January 24, 2001
Please welcome Fred Smith to the Roster. He went from being a Platoon Commander for India in '67, he was the 81s platoon commander for a while, then went to Kilo to become the Company CO in '68. We have not posted an email address for Fred.
January 16, 2001
Please welcome Jim Treadwell to the roster. Jim transferred from Mike Company, where he was the 2nd Platoon Commander, in 1969 and became the XO of India. There are a couple of pictures of Jim on the Mike Co. site, under Ed Browder's picture page.
We have posted what we believe to part or all of the Silver Star Citation for HM3 Charles Mariskanish, KIA 5/9/68. Along with the citation, which was included in an official letter from the Marine Corps, we have posted a request from Charles' sister. If you were with India in May of '68 please go to the Citation page by clicking on the underlined words above.
Posted a story from Joe Holt: Nah. That ain't disgusting. A goodie about the USS Renville in '66 and that's all I'm going to say. You'll have to read it.
John Gunderson, 1967-68, has an email address now. It's pfcgunny@yahoo.com
On Mike's site, we posted some memories from Earl Gerheim of 3/5 during the December '67 to April of '68 period. He remembers talking to Lt. Corr just before the Lieutenant was killed. Earl was a Marine combat correspondent.
January 12, 2001
We've posted three more pictures from Doc Perez, one with wife Linda, one of Doc Ernie Harp and one of Doc Kunkle. On his picture page.
We've just learned that HM3 Charles Edward Maraskanish was awarded the Silver Star posthumously for actions at his death on 5/9/68. He is on our Wall. We'll add a listing on the battalion awards page.
December 24, 2000
Posted a picture from Carrell Bostian of 3rd Platoon, on Okinawa in 1966, on the way to Vietnam.
We wish you all, as we remember those of us who were not fortunate enough to make it home, a very
M E R R Y C H R I S T M A S
December 17, 2000
Please welcome Ralph (Ed) Jacobs to the roster. Ed was with 3rd fireteam, 1st squad, 3rd Platoon from December of 1965 through Operation Hastings. Later he transferred to Kilo 3/5. Wounded three times he transferred to Camp Hansen in November 1966. We've also added a short bio on the biography page.
December 14, 2000
We have a better email address for Don "Whitie" Thurston. It's hippiedon68@hotmail.com
December 11, 2000
Please welcome Donald Thurston to the roster. Donald was an M-60 gunner with the company from September 1967 to June 1968.
December 7, 2000
Visiting a friend's web site (Connie Menefee, a hell of a poet... http://users.choice.net/~cmenefee/Vntoc.htm ) and saw a link to a downloadable Wall Database. Went ahead and downloaded it and installed it (it has a self installer, very easy). It is outstanding work! Every name on the Wall can be sorted by Date of Death, Name or Home Town. You can display by list or by individual page and you can tag each record with your own comments. It was designed by Fred Wunderlich and uses the database put together by the Vietnam Helicopter Pilots Association. It is free for non commercial use. Highly recommended. You can find it at http://www.sogngo.com/vietwar/ (don't bookmark since this is a temporary page).
Eddie Garcia's email address has changed: it is now eddie_326@msn.com
December 6, 2000
We have an email address for Ted Duckworth, '67-68 1st Platoon Commander then XO. It's tedd@nwlink.com
November 18, 2000
Please welcome Larry Vaughn to the roster. Larry was an 0331 in 1967-68.
Please welcome Ruben Salazar to the roster. Ruben was an 0331 with 1st Platoon in 1968-69. (Note: Larry and Ruben don't have email yet).
Please welcome Rocco Giambrocco to the roster. Rock was with Mike Company in 1968, then a Scout with H&S, attached to India for a year. In '70, Rock rotated home then came back and joined 1st Force Recon.
November 11, 2000
We are pleased to add Matt Kolakowski's email address to his name on the roster. Along with Steve, Matt is Captain Ski's son and an honorary member.
Please welcome Michael Whitham to the roster. Mike was with 2nd squad, 2nd platoon from 1973 to 1976. Mike Mannell was his squad leader.
On Mike Company's web site I've posted A trip to the Wall and Iwo Jima, which is an account of my visit on November 10 and 11, 2000 to the Iwo Jima Memorial on the Marine Corps Birthday and to Arlington Cemetery and the Wall on Veteran's Day. It was written as an attempt to give you a feel what it's like to do that and also, selfishly, to forestall the blues I'm afflicted with after all my friends have left.
November 9, 2000
HAPPY 225TH BIRTHDAY, MARINES
Reunion Update

The December 1 deadline for the first payment to hold reservations on your cabin for the May, 2001 reunion at the Highland Marina in west Georgia is fast approaching. If you intend to come and you haven't yet sent your $150 we ask that you do. This will be paid over to the Marina to hold the reservations. If you know you will come and simply don't have the money together yet to send, then please let us know that. In order to make the necessary plans for food and lodging we really need to know, approximately, how many folks are going to show. You can really help by letting us know. The total cost for four days and three nights is going to be $300 for food and lodging. That's inexpensive these days for a pristine natural environment, with woods and lake, in decent cabins with showers and kitchenette, not to mention the company of guys just like you. To let us know your intentions please write Curtis Eidson at jarheadnam@aol.com .For more detailed information on the reunion please visit the reunion info page at http://www.securenet.net/3rdbn5th/lagrange 2001.htm . For a recap of last year's reunion at the same location please visit http://www.securent.net/3rdbn5th/reunion.htm .

We also intend to help sponsor those Marine 3/5 vets who may not be able afford to come to the reunion. Should you wish to help in that regard please contact Curtis at the address above. With thanks my friends.

I'm really looking forward to next May's reunion. Last year was the first I had ever attended. For one reason or another I had been nervous about going to one and had some reservations even up to the last minute. I'll tell you, after a few minutes there, all my fears were allayed and I had one of the best, calmest and yet most emotional vacations I've ever had. Sure hope to see you there.
November 6, 2000
Please welcome Dave Gomez to the roster. Dave was an 0331 with 1st Platoon, 1967-68.
We've posted four more pictures from Doc Perez. 3 are of the staging area for 3/5 for Operation Union I, receiving casualties. One is of Doc and his interpreter at Lon Phu 1.
We've posted a current picture of John Costello (67-68) with girlfriend Britt.