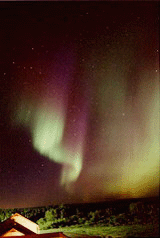 Moosonee in Pictures
I hope you enjoy exploring this virtual North. François and I took many pictures when we lived in Moosonee from 1988-1993 and more in 2000.
Stories: send me your photos and stories so I can incorporate them into this page.
Back to Main: Canadian History Time Line
All photos used were taken by François Bétit and Christine Hastie, unless otherwise noted. Please contact us if you wish to use them.
Something really does happen to most people who go into the north. They become at least aware of the creative opportunity which the physical fact of the country represents… and quite often, I think, come to measure their own work and life against that rather staggering creative possibility. They become, in effect, philosophers.
Glenn Gould, The Idea of North.
NOTE: These pages use GIF images for the photos. If you have a slower modem, may I ask you to bear with me? It's still faster than the 4.5 hr. train ride! ;-)

However, for a set of super images of Moosonee in JPEG format, visit the site by Hans Boldt.

An account of a canoe trip to Moose Crossing by experienced canoeists can be found here along with a map of the rivers in the area.