January - March 2001

March 28, 2001

Please welcome Jim Schooley to the H&S roster. Jim served with 81s in 1968-69.

Also, please welcome Terry Otell to the Mike Company roster. Terry was radioman/rifleman with 1st Platoon in 1968. He was wounded twice during Tet and again in April. He went home in May 1968.

And please welcome Ken Fields to the Mike Company roster. Ken was with Weapons Platoon from February 1967 to March 1968. He ended up being the Weapons Platoon commander. By the way, Ken's Dad, Clancey was a WWII Marine who was at Pearl Harbor, December 7, 1941.

Please welcome John Lund to the Mike Company roster also. John was with the company from December 1967 to August 1969. He ended up his last year at An Hoa as the Chief Company Clerk.

We posted The First, Curtis Batten's remembrance of his first day in country, in September 1967. A lot of us have the same sort of memories!

For those of you who don't get Leatherneck Magazine, one of the stories this month is about Hill 310 in August 1968. Bravo 1/7 is featured but both Mike and Lima 3/5 are mentioned. There is also a picture of Jim Quinn and Dan Hignight, holding an American flag.

March 26, 2001

Had computer problems and was not able to upload the updates below when I made the changes. Also one of Tom Mahlum's picture added March 15th, that we thought might be of Terry Householter is definitely not.

March 23, 2001

Please welcome Bud Gray to the H&S roster. Bud was with wire platoon in 64-65. He went to Oki and RVN with the company when it became 1/3.

Posted a picture from Paul O'Connell, of Pralicz. On his picture page.

On 19 March, 1970

The 26th Marines, which had received a Presidential Unit Citation for the defense of Khe Sanh, departed Vietnam. Following the regiment's departure, the 1st Marines was left to control the Rocket Belt, an area of some 534 square kilometers.

On 16 March, 1969

The U.S. battleship New Jersey departed the coast of Vietnam.

On 16 March, 1968

Troops from the Americal Division massacre more than 100 civilians, mostly women and children, in the village of My Lai.

On 18 March, 1967

The 3d Marine Division ended Prairie II and began Prairie III the following day. The latter continued until April 20.

On 18 March, 1966

3d Battalion, 4th Marines arrived RVN.

From 20-25 March, 1966

Operation Texas was conducted south of Chu Lai by Task Force Delta.

March 15, 2001

Curtis Batten (rockets, 67-68) has an email address. It's curtb51@hotmail.com and has been linked on the roster.

We've added 11 pictures from Lt. Tom Mahlum (with help from Ed Browder). They're of a lot of the lieutenants (Mahlum, Browder, Treadwell etc.); Sgt Major Craig; the Corps' 194th Birthday at Liberty Bridge; the sign at AnHoa; 3/5 Command Bunker; and one of what probably is Terry Householter. On his picture page.

On this date in

1966: The Force Logistic Command (FLC) was established at Da Nang. The unit is made up of the 1st and 3d Service Battalions and the in-country elements of the 3d Force Service Regiment (FSR).

March 13, 2001

Please welcome two members of Mike Company from 1964-65 when the battalion went to Oki then RVN to become redesignated as part of the 3rd Mar Div. (We previously added Larry Nelson from this period also).

Rodney Litsey was with guns in Weapons Platoon. When the company hit RVN in the autumn of 1965, it was redesignated as Charlie 1/4. He later transferred to Force Recon.

Dale Spilman was also with Weapons platoon under Captain Sumerlin as CO of Mike and Dan McMahon as the Weapons Plt Commander. Dale ended up with Delta 1/4 in RVN.

Added a picture from Paul O'Connell taken on some railroad tracks in Vietnam in 1990. On his picture page.

Added a picture from Jerry Lomax. It's an aerial of Camp Hansen (part of Camp Smedley Butler) on Oki. Casualty company area is circled. On his picture page.

On 8 March, 1965: The 9th Marine Expeditionary Brigade (MEB) commanded by Brigadier General Frederick J. Karch, landed at Da Nang. The MEB included two Marine Battalion Landing Teams (BLTs) - 3/9 which landed over Red Beach 2, and 1/3 which arrived by air from Okinawa. The 9th MEB mission was to defend the Da Nang Airbase. This was the first U.S. ground combat unit to land in RVN.

On 9 March, 1969: 1st Marine Division Operation Taylor Common ended in Quang Nam province. The operation, which began on 7 December 1968, accounted for close to 1400 enemy killed and 610 captured.

On 10 March, 1968: MACV Forward is deactivated. Provisional Corps Vietnam in created. This command, led by Lieutenant General William B. Rosson, USA, controls the 3rd Marine Division, the 1st Air Cavalry Division, and the 101st Airborne Division and is subordinate to Lieutenant General Cushman, commander of III MAF.

On 10 March, 1967: III MAF completed the introduction of the M-16 to Marines in Vietnam.

From 9-12 March, 1966: The NVA 95th Regiment overran the A Shau Special Forces Camp in western Thua Thien Province. HMM-163 assisted in the evacuation of the camp.

March 7, 2001

Posted a better picture of Doc Bowen on Jerry Lomax's picture page. Doc was KIA at Haivanpass on 5/9/68.

You will be happy to hear that Jerry is doing well after his bypass!

February 28, 2001

Please welcome Leon Meaux to the Mike Company roster. Leon was with the company from 1968-69 and remembers our fallen brothers Robinson, Niedecken, Dooley and Buckles.

Also please welcome Curtis Batten to the Mike Company roster. Curtis was with the company from October 1967 - September 1968 when he was wounded. He was with rockets. Curtis doesn't have email yet but please see his snail mail address on the guest book.

February 23, 2001

Debbe Reynolds most excellent site, dedicated to a whole passle of fine Marines, has moved. It is now at http://usmcwife.hypermart.net. Please update your bookmarks.

On this date, February 23, in the year

1966: A detachment of the 3d FSR; HQ, 11th Marines; a detachment of HQ Bn, 1st Marine Division, and 4/11 arrived RVN.

1968: NVA troops fire more than 1,300 shells into the Marine garrison at Khe Sanh. This barrage marks the heaviest shelling of the entire siege.

1969: Communist forces launched a major offensive throughout South Vietnam, one day following the expiration of the seven-day Viet Cong proclaimed truce for Tet.

February 22, 2001

Please welcome David Krueger to the Mike and H&S rosters. David was at Camp Pendleton when 3/5 first formed up in 1966 and went over with H&S in supply. Transferred to Mike Co. 1st Platoon and was in Hastings and the first two Deckhouses. Subsequently transferred back to H&S.

Also please welcome Bonard "Scott" Wilson, Jr. to the H&S roster. Scott was a corpsman with 3/5 at Pendleton in 1965-66 and subsequently went over with 1/3 later in 1966.

12-22 February, 1967, the 1st Marines conducted Operation Stone in Quang Nam Province. In this operation, Marines destroyed a vast network of caves, tunnels, and bunkers. In the operation's second phase, Marines surrounded elements of the R-20 Battalion and then swept back and forth over the cordoned area.

On 21, February 1967, Dr. Bernard Fall, noted historian of the of the French combat experience in Indochina, died in an explosion of an enemy mine. Dr. Fall was accompanying the 1st Battalion, 9th Marines on Operation Chinook II.

February 18, 2001

Please welcome Kenneth Hauge to the Mike Company roster. Ken was with 1st Platoon from March 1970 until 3/5 pulled out of country in late February 1971.

February 17, 2001 February 17, 2001

(My new computer is here and working)

We've added two more Silver Star citations to our citation section. Both were awarded for actions occurring on August 9, 1968. The citations are for 2nd Lieutenant Joseph Walters, a Platoon Commander for Mike Company and Sergeant Michael Brown, the chief scout for 3/5. With many thanks to Billy Myers, who forwarded the citations to us.

Grady Rainbow is writing a book based on his memories of his time in the Marine Corps. He has graciously allowed us to publish an excerpt here. We have superceded his previous writing here with this expanded material, it's now seven pages and well worth reading. To start, click HERE.

On this date in the year

1965: Company C of the USMC 7th Engineer Battalion began arriving at Da Nang by LST.

1971: The MACV commander directed that from 1 May to 30 June during Keystone Robin Charlie the entire 3d MAB would be redeployed.

On February 16, 1968, Operation Osceola II ends. This operation resulted in 21 reported enemy casualties with 2 Marines killed and 74 wounded.

February 8, 2001

We added HN3 David Clayton Phelps to Our Wall. David was a corpsman with Mike Company and was KIA on September 5, 1967 in Quang Tin Province, on Operation Swift. David was from Williamstown, New York. He is remembered by Ray Harton, whom he tended to the day previous when Ray was wounded, though he, David, had a shrapnel wound in his shoulder.

We've added a remembrance page for John Clair, CO of Mike Company in 1969. A memory of John from Paul O'Connell is included as well as John's obituary. If you have memories, pictures or stories you would like to share, we would be pleased to publish them here.

On this date, February 8, in the year

1965: Battery A, 1st LAAM Battalion arrived at Da Nang via C-130; it was operational the next day.

1967: 8-12 February, these dates marked the ceasefire for Tet, a major Vietnamese holiday. Thereafter, North Vietnames units, for the first time, defended key terrain from well-constructed, fortified lines and employed artillery weapons from 82mm to 130mm in size.

February 6, 2001

We have added three names to Our Wall.

1. 2nd Lieutenant Dale Russell Loudin, from Atwater, Ohio. He was KIA on November 7, 1967 and had been in country less than a month. Steve Walker and Roger Nicholson remember him, they were wounded on the same day.

2. Corporal David Lee Jones, known as Jonsey to both Steve Walker and Roger Nicholson, from Lincoln, Illinois, was KIA on November 8, 1967. Mike Company had been caught in all day running battle on the 7th, triggered by an NVA U shaped ambush.

3. PFC Francis Jeffry Trotta, from Cincinnati, Ohio. He was KIA on 15 September 1970 after stepping on one of our 81mm shells which was booby trapped. Remembered by Raul Vela.

Please welcome Bill Duran to the Mike Company roster. Bill was with third squad, 3rd Platoon from August 1967 to when he was wounded during Tet, January 1968. He was in Operations Cochise, Swift, Esses, Shelbyville, Auburn and No Name #97.

Mike Wilson has a new email address: Seaside10a@aol.com It has been updated on the H&S roster.

Raul Vela is still looking for witnesses to his wounding on 9/15/70 so that he can get his purple heart. He's found one, Charles Blair. But he's still looking for Sonnett, originally from Philadelphia and the head Corpsman from Mike Company at the time, name of Martinez. If you know of the incident or of the guys he's looking for please contact the webmaster.

(Your webmaster has a sick computer, it's been down for a couple of days and is barely working now. Apologies for delays in posting new info. A new one will be arriving in about 7 days after which I'll put a bullet in this one.)

On 5 February 1968, Marines from the 26th Marines at Khe Sanh repel a battalion-sized attack killing a reported 109 NVA soldiers with 7 Marines killed and 15 wounded.

On 7 February 1968, NVA units overrun the Special Forces base at Lang Vei, west of Khe Sanh.

Elements of the 3rd Marines, 5th Marines and the Americal Division engage the 2nd NVA Division in fighting around Da Nang.

February 2, 2001

We are saddened to report that John Clair, CO of Mike Company in 1969 (he took over from Pat Burns) died on December 18, 2000 of a massive heart attack. In the words of Ed Browder "I spoke with his father tonight and he gave me the sad news. Again my heart is broken....first Captain Burns and now "BIG" John. Another Marine that we served with dead, before a thank you and how the Hell are you doing, could be uttered..." and ""BIG" John you did a Hell of a job and were one humping ass Marine Commander. God Bless you and your family." Amen, from all of us. Rest in Peace, Marine.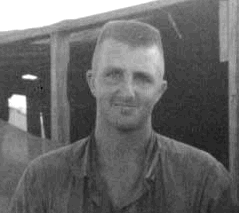 John Clair, 1969
(picture by Rick Nappi, part of larger one you can see by clicking here...it includes O'Neill, Washington and Nappi)
Ed Browder has a way with words and he struck a chord with the following: "It struck me last night...that the 2 guys who I really believed in and valued and respected their opinion, in combat, are now dead...way too young and are buried on the opposite coasts of this great country on ours. Thus in death, and by their choice of "resting place", they represent the diversity of geography and individual personality of the many who fought and labored in Vietnam."
On Roger Nicholson's picture page, Steve Walker recognized two of the Marines in the pictures. One is probably Doc Griggs. The other is Pete Schrader, who was KIA on 9 Nov 1967 and was Steve's best friend. He was the 1st platoon's radio operator.
On 1 February, 1968 units of the 1st and 5th Marines begin Operation Hue City to drive the NVA out of the city.
January 31, 2001
We added Lance Corporal Bruce Edward Mielke to the H&S Wall (under the Mike Co. Wall). Bruce was from Evansville, Indiana and was KIA on August 1, 1967.
We posted Dan Link's Silver Star citation on the Silver Star series of pages.
We added one picture from Jim Treadwell. This one is of many guys from 2nd Platoon in 1969. Can you identify any of these guys?
On this date in the year:
1967, Operation Prairie, the 3d Marine Division's multi-battalion operation, which began in August 1966, ended in Quang Tri Province. The operation opposed elements of two North Vietnamese divisions.
1968, The NVA opens its Tet offensive throughout South Vietnam with attacks against 39 provincial capitals and major cities including Saigon and Hue.
General Leonard F. Chapman becomes the 24th Commandant of the Marine Corps, upon the retirement of the former Commandant, Gen Wallace M. Greene, Jr.
1970, Enemy traffic along the Ho Chi Minh Trail in January increased to 10 times what it was in September-October 1969.
III MAF strength in Vietnam was 55,191.
January 28, 2001
Added a listing for Dan Link's Silver Star on the battalion awards page (http://www.securenet.net/3rdbn5th/valor.htm) dated 15 February 1967. Also added a bio for Dan on one of the bio pages (from his message board note).
On this date in the year:
1966: Operation Double Eagle I was conducted by Task Force Delta in southern Quang Ngai Province.
January 27, 2001
Please welcome Dan (Doc) Link to the Mike Company roster. Doc was a corpsman with Mike from October 1966 through June 1967, Operations Desoto, Unions I and II. He was awarded a Silver Star on Operation Desoto, when we get the exact date we'll add the listing to the battalion awards page.
On this date in the year:
1968: The seven day Communist cease-fire for the Tet holiday begins.
January 26, 2001
We are pleased to tell you that Jerry Lomax successfully went through 6 (SIX) bypasses. While still in the hospital he's expected to be home by Sunday or Monday. Doctors made him walk today which had him cussing and fuming (like a good Marine) according to Beth Lomax, as told to Debbe Reynolds.
Today is Hans Haupt's birthday guys, so give him a hard time!
On this date in the year:
1904: Marines and seamen, escorting the diplomatic mission 500 miles through the desert to Abyssinia, were presented the Menelik Medal by the Emperor in ceremonies at Addis Ababa, with the Star of Ethiopia being presented to Lieutenant C.S. Hussey, USN, and to Captain C. Thorpe, USMC, commanding the escort.
1967: Operation Desoto began. Task Force X-Ray controlled this operation which involved elements of the 4th and 5th Marines in a search and destroy mission in Quang Nam Province. The operation lasted 73 days.
1968: Operation Badger Catch is renamed Operation Saline. The Marines in Badger Catch continue to work in conjunction with Operation Napoleon, a similar effort by the 1st Amphibian Tractor Battalion to keep the Cua Viet River supply line open. (Note: on January 27, the 7 day Communist TET ceasefire begins)
1970: President Nguyen Van Thieu appealed to friendly nations for continued aid, saying he would go his own way if allied policies were not in accord with the South Vietnamese government's.
January 24, 2001
Please welcome Fred Smith to the H&S roster. Coming from India where he was a platoon commander in '67, he was the 81s platoon commander for a while, then went to Kilo to become the Company CO in '68. We have not posted an email address for Fred.
On the Battalion awards page, we added a listing for Capt. Pat Burns' Silver Star, 3 March 1969. There are now 83 Silver Star awards listed on that page.
On this date, January 24, in the year...

1874: The Marine detachments of ships of the Atlantic Squadron, assembled off Key West, Florida, because of trouble in Cuba, participated in battalion-sized exercises under the command of Colonel Charles Heywood.
January 23, 2001
Please welcome Bob Montgomery to the Mike Company roster. Bob was with first platoon in 1967-68. He thinks that one of the pictures that J.C. Bowers has on his picture may be of him (it is so identified, near the bottom of that page).
Please welcome Tom Ballou to the H&S roster. He was in the CMS vault from 82-85 (the place where all the secret stuff was kept...radio freqs etc.) We've built a separate table on the same page to identify those folks who served before or after RVN who wish to be listed on our roster so they don't get lost in the shuffle.
On January 22, in the year:
1968: The 1st Battalion, 9th Marines reinforces the garrison at Khe Sanh.
1969: Operation Dewey Canyon began in the Da Krong Valley of Quang Tri Province with the lift of elements of Colonel Robert H. Barrow's 9th Marines and supporting artillery from Vandergrift Combat Base into the area.
On this date, January 23, in the year...
1942: On Samoa, the 7th Defense Battalion was reinforced by the 2nd
Marine Brigade (the 8th and 10th Marines, and the 2nd Defense Battalion).
In the Solomons, Japanese landed at Kieta, Bougainville Island.
In the Bismarcks, Japanese forces landed at Rabaul where they quickly
overran the small Australian garrison there and occupied New Ireland.
1968: The USS Pueblo (AGER 2), an American intelligence ship, is seized off the coast of Korea by the North Koreans.
Special Landing Force Bravo consisting of BLT 3/1 and HMM-165 begins Operation Badger Catch near the Cua Viet River.
1971: CINCPac approved standing down ARG Bravo from 29 January - 1 May 1971. ARG Alpha would remain on 120-hour reaction time during the period.
January 21, 2001
Please welcome Ron Pottorf to the H&S roster. Ron was with 81s from '66 to '67. His section was mostly attached to Lima Company during that time. Before that he was with the Battalion on the Princeton.
Jerry Lomax (Mike Co. '68) is in the hospital today undergoing a minimum quadruple bypass surgery (maybe as many as six). All going well he will be in ICU for two days then returning home at week's end. Thoughts and prayers for Jerry please, he's a real good guy as those of us who went to the Georgia reunion last year know.
Coming in July or August this year, Jim Kirschke's book "Not Going Home Alone" will be published by Ballantine Books. Jim was the 81s platoon commander for 3/5 in '66 and a platoon commander with Hotel 2/5 in '67 before being grievously wounded. The book is about his experiences with 3/5 and 2/5 and by the account of a person who has read the manuscript it is outstanding!
On January 20:
1962: CincPac authorizes all MAAG advisors to accompany their Vietnamese units into combat.
1968: The 26th Marine Regiment killed 100 enemy as the second Battle for Khe Sanh begins.
Operation Lancaster I, a 3d Marines operation to safeguard Route 9 between Cam Lo and Ca Lu, ends with a reported 76 enemy casualties and 27 Marines killed and 141 wounded.
The 1st Marines concludes Operation Osceola in the Quang Tri City region. The operation resulted in a reported 76 enemy casualties with 17 Marines killed and 199 wounded.
The 4th Marines concludes Operation Neosho I northwest of Hue. The operation resulted in 77 reported enemy casualties with 12 Marines killed and 100 wounded.
On January 21, 1968:
The 4th Marines begin Operation Lancaster II in the same area as Operation Lancaster I and the 3d Marines begin Operation Osceola II in the same area as Osceola I.
General Westmoreland, Commander USMACV, orders a temporary halt to work on the "McNamara Line," the barrier and antiinfiltration system south of the DMZ.
January 16, 2001
Please welcome David Lopez to the H&S roster. David was with 81s in '66-67 and would like to correspond with anyone who was with 81s.
Please welcome Rob Charnell to the H&S roster. Though Rob was with Radio Battalion in '69-70, he spent at least 7 months supporting or serving with 3/5. Please see his bio on the first bio page.
Please welcome Dutch Lenahan to the Mike Company roster. Dutch was an 0331 with first platoon from March to November of '69. .He has been an engineer on the Delaware and Hudson R.R.for the last 26 yrs and still lives in his home town of Sugar Notch Pa.
Please welcome Jim Treadwell to the Mike Company roster. Jim was 2nd Platoon Commander for four months in 1969 before transferring to India Company as the XO.
We've added an 11th picture from Jim Quinn, this one of a captured .51 cal machine gun captured on Hill 310. On his picture page.
We've posted some memories from Earl Gerheim, who was a Marine combat correspondent in '67 and '68. These are particular to 3/5 who Earl spent much of his time with, specifically of the Houston series of Ops.
On this date, January 16, in the year...

1893: Marines from the schooner USS Boston landed at Honolulu, Hawaii,
to protect American lives and property after the deposition of Queen
Liliuokalani and the formation of a provisional government.

1944: On Bougainville, the withdrawal of the 3rd Marine Division from
Bougainville was completed.
(16-17 Jan): On New Britain, Company B, 1st Tank Battalion,
spearheaded an assault by U.S. Army troops against Japanese positions on
the Arawe Peninsula. The Japanese were forced to withdraw to the Lupin
area.
1968: The 2nd Battalion, 26th Marines reinforces the Marine base at Khe Sanh.
January 12, 2001
Please welcome Thomas O'Donnell to the H&S roster. He was the Comm Officer in October and November 1966.
Earl Gerheim's new email address is egerheim@msn.com
We've posted 10 excellent pictures from Jim Quinn '68. They are of him, Dan Hignight, Joe Walters, Eddie Pacheco, Frank Pacello and others. On his picture page.
On this date:
1918: Colonel Albertus W. Catlin USMC established headquarters for the 6th Marines at Blevaincourt in the Bourmont training area. The 3rd Battalion, 6th Marines arrived in this area on the same date. The 4th Brigade of Marines commenced functioning as a brigade, with the 5th Marines, 6th Marines and 1st Machine Gun Battalion all present.
1991: The 5th MEB embarked and arrived in the North Arabian Sea in
support of Desert Shield.
On January 11, 1968:
As part of Operation Checkers, in an effort to rotate units of the 1st Marine Division north to relieve the 3rd Marine Division, Task Force X-Ray headquarters is activated at Phu Bai. Task Force X-Ray subsequently relieved the 3rd Marine Division headquarters at Phu Bai, which moved to Dong Ha in Quang Tri Province.
January 9, 2001
Please welcome Chief A. H. Miller to the H&S roster. He was the USN Bn Chief from December 1965 at Margarita Ranch, Camp Pendleton until December 1966 when he transferred to 1/7. Welcome Doc!
On January 8, 1970: Building on the combined action platoon concept, III MAF formally established the Combined Unit Pacification Program (CUPP). Under the CUPP, Marine rifle companies deployed their squads in hamlets to work with the RFs and PFs much like the CAPs did. The CUPP differed in that the rifle companies were given no special training, and the Marine units remained under the operational control of parent regiments, generally operating within the regiment's AO. (Editor note: during my time with 3/5 in 1970, the CUPP company for the battalion was Mike 3/1, opconned to us).
On January 9,
1847: Marines participated in the Battle of La Mesa (California) during the Mexican War.
1945: In the Philippines, the U.S. Sixth Army landed on beaches of the
Lingayen Gulf, Luzon.
January 7, 2001
Email you wish to send to Robert Rollins (H&S), just out of the hospital, should be sent to dkc1101@aol.com. Thanks!
January 5, 2001
We've added six pictures from Ed Browder (Mike Co. '68-69). They're of him, Capt. Burns, Lts Nappi, Treadwell, Lewis, Nappi and 1st Sergeant Dickerson. On his picture page.
On this date:
1944: On New Britain, the 5th and 7th Marine Regiments overran the 53rd
Japanese infantry.

On 6 January,
1967: Operation Deckhouse V, the first major offensive by U.S. forces into the Mekong Delta began with helicopter and waterborne landings by the SLF (BLT 1/9) and Vietnamese Marines. The Viet Cong knew of the operation in advance and departed before the Marines landed.
1970: An estimated force of 100 VC attacked Fire Support Base Ross, which was then occupied by Companies A and B of the 1st Battalion, 7th Marines, the battalion headquarters group, and two artillery batteries. Thirteen Marines were killed and 63 were wounded while the VC left 39 dead behind.
January 4, 2001
We extend our best wishes and prayers to Robert Rollins (USMC1097@webtv.net), H&S, who just got out of the hospital, where he was being treated for emphysema, and is at home.
On this date:
1944: On New Britain, elements of the 3rd Battalions, 5th and 7th Marines, attacking toward Borgen Bay, overran the 2nd Battalion, 53rd
Japanese Infantry, which was defending Suicide Creek.
1966: The Special Forces camp at Khe Sanh reported 20 rounds of incoming 120mm mortar fire. This was the first confirmed enemy use of 120mm mortars in RVN.
January 2, 2001
We've added Steve Lovejoy's squad and Platoon to his Mike Company roster listing. He was with second squad, second Platoon in '67-68.
Ken Campbell was a friend of Terry Householter, KIA 6/23/69. Ken, a Marine also, went to school with Terry. A while back he wrote a remembrance message on the message board which he has kindly allowed us to post on Terry's tribute page. Thank you Ken.
We've added a link to Special Forces search engine, for all things military. Out of the blue they wrote me to say that they added 3/5 to their links and we're returning the favor. I checked it out, it's pretty good. On the links page.
On this date in:
1777: Marine battalion under Major Samuel Nicholas plus other Marine companies participated in the 2d Battle of Trenton (Assanpink) as part of Washington's forces.
1944: On New Britain, Brigadier General Lemuel C. Shepherd, Assistant Division Commander, 1st Marine Division, launched an attack by the 2nd and 3rd Battalions, 7th Marines, and the 3rd Battalion, 5th Marines, toward Borgen Bay.
On 3 January, 1968: The 5th Marines concludes Operation Auburn south of DaNang (28 Dec67-3Jan68). The operation results in 37 reported enemy casualties with 24 Marines killed and 62 wounded.