December 2001 - February, 2002
February 21, 2002
Please welcome Lynn Putnam to the Mike Company Roster. Lynn was with 3rd Platoon from September 1968 to March 1969. I don't have an email for him yet.
Gene Bowers email address has changed. It is now genebowers@comcast.net On the H&S roster.
February 15, 2002
Please welcome Bob Graler to the Mike Company Roster. Bob was the 2nd Platoon Commander from December 1967 to May 1968, when he was wounded for the third time. Also, we've posted a bio for Bob, on the first bio page (they're in alphabetical order).
Over the last month or so we've asked about Marines KIA on September 11, 1968. We've identified all that belong to us, I do believe. The last two, which I asked for help on February 1, were Jerry Copeland and Fred Spina. Fred was with Fox 2/5 so I've removed the name from Our Wall. Thanks to Deb Reynolds for the research. Jerry Copeland was remembered by Rock Giambrocco and is one of ours. Thanks Rock.
February 14, 2002
Please welcome Harvey Ellis to the Mike Company roster. Harvey was with 2nd Platoon from July 1970 until the battalion rotated home in '71, then transferred to 2nd battalion as an S-2 scout. He was an M-79 man with the company. Harvey holds a Navy Commendation Medal with Combat V, earned on Imperial Lake in Nov. 70
Also please welcome Fate Warren to the Mike Company roster. Fate was with 3rd platoon, a corporal 0331, from June 1968 to April 1969. He has a Navy Commendation Medal with Combat V and a couple of hard earned Purple Hearts. If you'll take a look on Jim Quinn's picture page you can see Fate in one of those (just captioned).
I've got a ton of pictures from Steve Howsmon, through Deb Reynolds. I'm slowly processing them and will have them up soon.
February 8, 2002
Posted a picture from Steve Howsmon of him and Brad Reynolds. Also, fixed Steve's email address, it is stevesvw@aol.com
February 6, 2002
Posted 15 more excellent pictures from Fred Riddle. Of Operations Swift, Mameluke Thrust, Allenbrook, Cochise. On Haivan Pass, on Hwy1 Sweeps, road security, 81s, NVA prisoners, digging graves. Of Cruz, Bahma, and other friends. On his picture page.
February 5, 2002
Mark DeSciscio has a new email address. It's klondike@ditol.com. On the H&S roster.
Added a picture of mine, sitting on a painted rock in the 81s compound at FSB Ross, 1970. McCurry's picture page.
February 3, 2002
Tom Wityak's new email address is taw0331@earthlink.net On the Mike Company roster (entry 97).
February 1, 2002 2200hours
Thanks to Larry Searight for obtaining Daily Reports from HQ USMC for August and September 1968. He scanned a few and sent them to us. We have identified five more Mike Company Marines that belong on Our Wall. KIA on August 2, 1968 was PFC Bruce Edward Clough, from Magnolia, Delaware. KIA on September 11, 1968 were PFC Thomas William Steele from Colorado Springs, Colorado; Corporal Douglas Mark Smith from North Tonowanda, New York; PFC Phillip Edward Slaughter from Kansas City, Missouri; and PFC Richard Gale Daniels, from Columbus, Ohio.
I took an educated guess at some of the 11 September 1968 names, some time ago, and I believe two that were placed were not ours: Lance Corporal Jerry Copeland and Lance Corporal Fred Spina. Can anyone confirm that they were definitely with, or not with, Mike Company? Thanks.
February 1, 2002
Please welcome Steve Howsmon to the Mike Company roster. Steve was with 1st Platoon from November 1967 to June 1968 and recognized a picture of himself on Brad Reynold's picture page.
January 31, 2002
Since the old message board is buggy we have a new one at: http://pub4.bravenet.com/forum/show.php?usernum=263796412&cpv=1 If you wish to visit it more than once please save it as a bookmark. Thanks!
January 25, 2002
Please welcome Bob Briscoe to the Mike Company roster. Bob was on his second tour, this with Golf 2/7, when 7th Marines left 'nam in '70 and transferred to Mike 3/5 as a squad leader and sometime S2 scout. When 3/5 left he stayed behind with Lima 3/1. For a synopsis of his long Marine Corps history please see his bio on the first bio page.
Please welcome James Mackay to the H&S Company roster. James was with 81s as an A-Gunner from 1968 to 1970.
Also, T.A. Perry, who we added to the roster yesterday, served with 2nd Platoon.
January 24, 2002
Please welcome T. A. Perry to the Mike Company roster. Sgt. Perry was a machine gunner with the company from December 1967 to January 1969.
We have added William Medford Pangle to Our Wall. Bill was a member of T. A. Perry's gun team when he was KIA on 23 April 1968, at the same that Bill Svoboda, the other member of T. A.'s gun team was wounded. He was from Harrisonburg, Virginia.
January 20, 2002
Grady Rainbow's address has changed. It is now e7Gunny@cox.net
January 19, 2002
We've added 18 more pictures from Craig Sullivan, on a second picture page for him. Of local scenes and people, Highway 1 Security CP and the bridge, mortar team, rocket team, NVA dead on Swift, NVA weapons captured, Hueys and a CH34, hygiene in the field, booby trap, more.
A while back, Larry and Kathy Chapman posted a message on the board (which is not working correctly by the way, I'm working on it). Since then, their email address has changed so we're repeating the message here:
If you have served in nam with Robert (Woody) Watrous or knew of him we would love to here from you. He served in MOS 0351 106's 1966-1967 3/5 H-&-S Company first marine division. Robert was my uncle (Kathy). He was KIA Aug 16,1967. We have a web page for him thanks to Debbie -&- Brad. They have set it up for us. And I must say a Great Job done. Here is the address to go and look at Robert's memorial page to see if any of you remember
him. http://usmcwife.hypermart.net/memwatrous.htm. Thanks for all your help. Hope to here from some of you soon.

Semper Fi
Larry and Kathy larry_kathychapman@msn.com
January 17, 2002
We've added captions to all of Fred Riddle's pictures, posted yesterday. Operation Swift, Adair and the May-June 1968 Op around Haivanpass.
We've posted three of Craig Sullivan's reunion pictures on the reunion page, battalion site.
Raul Vasquez, Mike Company, only has one email address now. It's squez35@aol.com. The go.com address is no longer valid.
January 16, 2245 hours,
Please welcome Fred Riddle to both the Mike and H&S Company rosters. Fred was with the battalion from May 21, 1967 until June 1968. He was first in 60 mm mortars, then rockets, then was the FO for 81s with Mike Company through Operation Essex when he was wounded. Came back after Guam and served with 81s. We've posted a bio for Fred..click here. Also posted 14 pictures, as yet uncaptioned, of mortars, a CH46 insertion, on a road and of people not yet named. On Fred's picture page.
January 16, 2002
We've added a picture of a DaNang movie theater to Stan Watson's picture page, it's a little fuzzy but gives you the idea. Also, the picture that folks not identified has been captioned.
Craig Sullivan sent us an image of a bronze star to put on the Bronze Star page (like we have on the Silver, Navy Cross and Medal of Honor). Thanks Craig.
Mike Wilson (H&S..1968) came to the reunion last May with his family. You will remember his daughter Kelly and her friend giving us a rousing rendition of the Dixie Chicks song Earl. Well, here's a follow up story about a school project for Veteran's Day....in Mike's words:
The story behind this project, is the kids were given the task of coming up with a Veterans Day Salute and they all had to submit an idea. Kelly came up with the Veterans Wall of Honor. Taking her cue from our Wall at the reunion. Because they picked her project, she asked if she could use a special color for her 3/5 Veterans. Each student was allowed to place 5 stars on the Wall. Kelly enlisted the help of her friends to put as many of our 3/5 names up as possible. That's why most of the stars are white and the rest are red. Following are pictures of each Wall.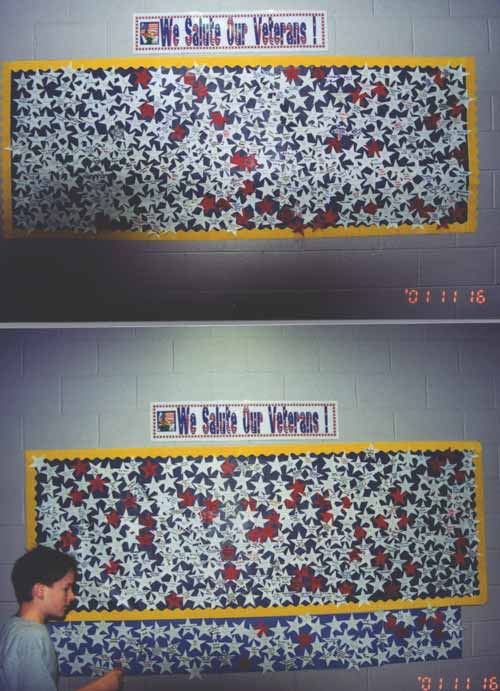 (Editor's note: I love this, and I would suggest that those of you that feel the way I do, write to Kelly care of her Dad at Seaside10a@worldnet.att.net). Thanks and thanks Mike, for sharing this with us. It's a heartwarmer.
January 14, 2002
Added 17 pictures from Stan Watson, 81s in 1966-67. Platoon picture, Mt Fuji, on the USS WestCounty, Scenes of DaNang in 1966, Deckhouse I, pictures of many 81s Platoon members including Watson, Swann, Archulleta, Thibault, Wilder, Forbes, Brown, Janezick, Haney, Junkins. On his picture page.
One more picture from Craig Sullivan, lying next to his fox hole.
Mike McFerrin made contact with the family of Floyd Mallison and writes the following:
For those of you who were with Mike Company during the July 68 to August 69 time frame, you may remember Floyd Mallison who was a machine gunner mostly with 3rd platoon. He was originally from Akron, Ohio.

Over the weekend, I scored a hit in finding his father and stepmother in Ohio. But the news is not good. Floyd apparently never talked about Vietnam to anybody in his family but did have lots of problems adjusting. Ten years ago he took off for the state of Washington. Though he never said anything to them nor they to me, it sounded like he was headed for the mountains there were Vietnam vets who could not adjust were still going at the time to completely drop out of society.

NOBODY has heard from him since. Not family or friends. Unknown whether he is even still alive.
If any of you has heard from Floyd we'd appreciate knowing. Thank you.
January 13, 2002
Added 7 more pictures from Craig Sullivan. Current one of his wife and Sully; Ken Fields, Que Son Valley with Steve Walker (Haygood), Tank on Highway 1, Banana trees on Op. Swift, Covered well in the Que Sons. On his picture page.
January 12, 2002
We've added 13 more pictures from Craig Sullivan. Of him, Sgts Lewis, Clark, LCpls Mecureo and Kretsinger, Doc Phelps, 1st Platoon's CP on Bridge Security on Highway 1, a tank crossing that bridge, captured weapons, a tunnel on Union II, and a 60mm Mortar team that got hit and all killed by a VC mortar while on Bridge security. If you know of any those guys' names we'd sure like to know. On his picture page.
January 11, 2002
Please welcome Larry Walters to the Mike Co. roster. Larry was with the company in 1968 before transferring to India 3/26 after Meade River. He's looking for buddies, specifically Quick, Putman, Getz, Bare, Probst, Turner, Lewis, Graham or Hobbs. The email address on the roster is his son's Larry Walters II.
January 10, 2002
Please welcome Richard Debevec to the H&S roster. Richard was an 0341 with 81s in 1969.
We've posted 18 more May 2001 reunion pictures from Jerry Bain and Curtis Eidson. On the battalion page at http://www.securenet.net/3rdbn5th/miscellaneous.htm
January 7, 2002
Please welcome Jack Murray to the Mike Company roster. Jack was the CO of the company in late 1967, until November, and also during Operation Swift. Prior to that he had been a Platoon Commander and XO in the company. His tenure with the company, off and on, was from December 1965 to November 1967. Jack says he has a bunch of pictures and other stuff that we hope to be able to share with you all soon. Special thanks to Chuck Goebel in persevering in the search for the Skipper.
We've posted 11 reunion pictures from Mike Wilson on the battalion site. Http://www.securenet.net/3rdbn5th/wilson.htm (January 9th: fixed the link)
January 6, 2002
Please welcome Stan Watson to the H&S roster. Stan was with 81s from January 1966 to April 1967 and saw action on Operations Deckouse I and II, Nathan Hale, Hastings, Colorado, Jackson, Napa and others. He came to 3/5 from 3/9. We've also added his guestbook entry to the 2nd H&S Bio page.
On the operations page we've added links to more information on Operations Union I, Union II and Swift. On Debbe Reynold's site.
January 2, 2002
Please welcome Patrick Oliver to the H&S roster. Patrick was an S-2 Scout Sniper from April 1968 to May 1968.
I got George Slavick's name wrong, fixed it. George was with 1st Shore Party and we added him to the H&S roster a couple of days ago. My apologies George.
The story I posted yesterday, about Herbert Coleman Wright, has been revised to correct my errors and provide more detail.
January 1, 2002
A while back I posted a story about finding the North Carolina Vietnam Veterans Memorial on the way to the reunion last May, on I-85. I've just posted a story behind one of the names on that Wall. Some of the details are a little fuzzy in my memory but the gist is true. See Herbert Wright's story.
December 31, 2001
Please welcome George Savick to the H&S roster. George was with 1st Shore Party from 66 to 68 and went out on a lot of ops with 5th Marines, all battalions including us. His records show entries for Union I, II, Adair, Calhoun, Swift, Shelbyville, Onslow, Essex, Checkers and Hue City. WIA 24 Feb 67.
We've posted a picture of Kevin Titsworth's boot camp picture, KIA 16 February 1967, from San Jose, California, on the various picture page.
WISHING YOU ALL A HAPPY AND PROSPEROUS NEW YEAR
December 27, 2001
We've added a Memorial page for Richard Duncan, KIA 8 November 1967. The memorial includes his picture and obituary and link to his Navy Cross award. Thanks to Deb Reynolds for forwarding the picture and obituary.
We've posted the Bronze Star Citation for Kevin Kelly, awarded for actions on 23 February 1967 during Operation Desoto.
We've posted the Navy Commendation Medal Citation for Charles Goebel, awarded for actions on 4 September 1967 during Operation Swift.
We've broken out all five Bronze Stars onto separate pages. In our continuing effort to ensure that the records of these actions are not lost in the mists of time, we encourage any and all of you guys to submit your Silver Star, Bronze Star and Navy Commendation Citations, if they're not already on here. It's a way of preserving history, of recording the significance of the service our Battalion gave during the six years we were there, and recognizing the bravery, professionalism, training and leadership exhibited by you guys, individually, and as a group. Thanks.
December 26, 2001
Bill Duran remembers two Marines who belong on our Wall:
James Klopmeyer from Millstadt, Illinois, KIA on 19 December 1967, along with Frankie Riegel and Dean Vidler (already on our Wall), all were on a 5 man patrol that Bill was on too. James Klopmeyer had only been in country 10 days. 3rd Platoon.
Corporal Vernon Chester Randolph from Bettendorf, Iowa, KIA on 7 February 1968, 12 months into his tour. 3rd Platoon.
Two more Marines for the Mike Company roster:
Please welcome Rene Gagnon, radio man in the company from 1969 to 1970. He found out about this site through Amby Owens.
Also, please welcome Stan Bledsoe, who was in 1st Platoon from May until December 1967 until sent to Vietnamese Language school in Da Nang, then to Special Services. He remembers Craig Sullivan, Vandengriff, Barber, Little and Rogers. (I had the wrong email address up for 12 hours, has been corrected).
We have completed transcribing all the Silver Star citations we have in hand, 72 of them for the battalion. One of the latest we added was for Colonel Rockey, the battalion CO in early '68. If you wish to check them out, please visit http://www.securenet.net/3rdbn5th/valor.htm
December 24, 2001
I've added a second table to the Mike Roster, below the current one. The new one is alphabetical and includes the order of appearance on the roster so that you can use the bottom list to find your buddies (and their email addresses) on the top list. Will be doing the same thing with the H&S roster in the near future. Thanks for your patience. Merry Christmas, Marines.
December 23, 2001
George Blankenship provided the following interesting link, on the current status of the Osprey, for those of us who are interested: http://www.newsobserver.com/sunday/front/Story/847140p-832479c.html Thank you, George.
December 21, 2001
We've posted the Silver Star Citation for Captain Frank Pacello. Frank was the CO of the company during Mameluke Thrust and was awarded the medal for actions on the day he was wounded 17 August 1968.
December 20, 2001
Please welcome Colonel Al Seymour to the H&S roster. Colonel Seymour was the battalion CO in late 1968, succeeding Don Rexroad. He doesn't have a computer so if you need to contact him please write to us.
We've been added to the 1st Marine Division Association webring. See the graphic at the bottom of the home page.
December 18, 2001
We've posted the Silver Star Citation for Captain Howard Nielsen. Then a Second Lieutenant, Howard was awarded the citation while serving as First Platoon Commander on 11 September 1968. We've also posted three other citations on the battalion valor page, from Kilo, Corporal Marsden and Captain Maresco, and from Lima, Lance Corporal McMullin.
December 17, 2001
We've switched guestbooks again, the new one is at the bottom of the home page. The two old ones at archive.htm (1999) and archive2.htm (2001).
Also, I've added a search engine for the site. It's also at the bottom of the home (opening page). If you type in a request the results will show you which page(s) the name or event you're looking for is located. Feedback on how it works is appreciated.
December 16, 2001
Please welcome Joseph Giles to the Mike Company roster. Joe was an 0311 with a 3rd squad (he'll look up his records to find his platoon) in 1967.
December 15, 2001
We've posted seven more pictures from George Blankenship. Jim Godsey, James "Scuz" Maedgen, Jimenez, Art Mosher, Brad Ellis, Bill Vesper. They were taken at Phu Bai, An Hoa, Dai Loc Pass, Goi Noi Island from June to September 1968. On his picture page.
December 14, 2001
We've posted the Silver Star Citation for Sergeant Howard Manfra, Jr. The date of the award is 4 September 1967, during Operation Swift, while Howard was serving as an Antitank Assault Squad Leader.
We've posted a number of Silver Star citations for all the companies. Of interest lately would be the one for Colonel Esslinger, the Battalion CO during Operation Union.
December 13, 2001
Please welcome Chuck Goebel to the Mike Company roster. Chuck was a FAC with the company during the second half of 1967. We've added a bio for him to one of the bio pages. Also, Chuck is looking for J.D. Murray, the skipper during Swift.
Added a picture from Brad Reynolds on his picture page...Tools of the trade.
Added a link to the 1st Marine Division Association. Emmett Queen has done an outstanding job there. Roster (you can sign up), History, Reunion info, links, ribbon checkers, lineage etc.
December 3, 2001
We have posted the Silver Star Citation for Corporal Daniel Hignight, for actions on 9 August 1968. Also, for your information, we have posted many more citations than just Mike Company's. On the table of awards, battalion site, we've posted a number from Lima and Kilo, and linked to a number from India's site.
December 1, 2001
We have posted two Silver Star Citations:
Awarded to Corporal George E. Brick, 17 August 1968, Operation Mameluke Thrust.
Awarded to PFC Denis W. Flood, 13 and 14 May 1967, Operation Union.